Bridging the Mobile Gender Gap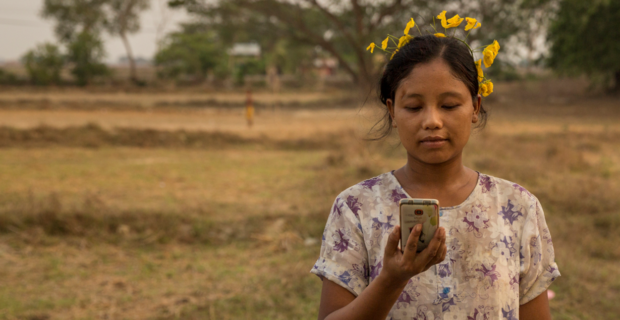 Overview
There is currently a significant gender gap associated with access to, and use of, the internet and mobile broadband services. This course aims to help policymakers understand the size and drivers of the mobile gender gap in low- and middle-income countries and provides insights and recommendations on how to improve digital inclusion for women.
It focuses on mobile, since mobile has the power to transform lives and deliver broader societal benefits, providing citizens with access to life-enhancing services, often for the first time. Mobile is key to digital inclusion since it is now the primary way in which many gain access to the internet.
The course also focuses specifically on women, since despite the rapid growth in mobile technology, there remains a gender gap in mobile phone access and use. This means that women are missing out on the benefits of mobile connectivity – it is critical for both women and society that this gender gap is addressed. In an increasingly connected world we cannot afford to leave anyone behind.
Course Objectives
Gain a better understanding of the issue and need for urgent action
Discover how gender perspectives can be integrated into strategies, policies, plans and budgets so they explicitly address women's needs, circumstances and preferences
Learn how barriers such as affordability, safety and security concerns, digital skills, access, and the availability of relevant content can be addressed
Learn about what other governments are doing to improve women's digital inclusion
Develop an action plan for your country to reduce the mobile gender gap.
With Thanks To Our Partners
This course is offered through the GSMA Connected Women programme, which works with governments, the mobile industry, the development community and others to improve digital and financial inclusion for women in low- and middle-income countries. The programme is funded by UK Aid and the Swedish International Development Cooperation Agency (Sida), and is supported by the GSMA and its members.
Course Enrolment Criteria
This course is open to:
Regulators
Policymakers
Representatives from academia and international organisations working on regulatory or policy issues
We cannot accept applications from individuals working in the private sector or those not involved in policy or regulation.
Course Completion Certificates
All of our courses are certified by the United Kingdom Telecoms Academy (UKTA) and can be used as evidence of professional development.
To qualify for a course completion certificate, you must view all the course sessions and answer correctly all the quiz questions you will find as you progress through the sessions. You will also need to fill out the course survey.
You do not have to complete a final project to earn a course completion certificate but we strongly encourage you to create one. Putting together a final project will give you an opportunity to reflect on the principles covered during the course and help you discover how they could be applied to your own country.  If you submit a final project the course trainer will provide you with valuable feedback that you may find useful in your day-to-day work.
Course Structure and Study Time
The course consists of four sessions and you will gain access to all of them on the course start date. You will have the opportunity to ask questions about the content of the course during two live chat sessions as well as on the course forum.
It should not take you more than two to three hours of study time per week to complete the course in four weeks. You will have, however, seven weeks to complete it. If after seven weeks you have not completed the course, you will have to start it again next time it is offered.
If you decide to submit a final project, it will probably take you four to six hours to put it together. You will have seven weeks to submit your final project.
Enrol on this course